After reading this news fit to
"print"
I got to wondering if there might be a more detailed correlation between what should already be obvious.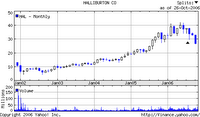 Accurate civilian casualties are much harder to come by, which is understandable when you consider the different sources (varying significance); nevertheless, a
conservative
estimate would indicate that the folks at Halliburton are earning a tidy million dollars per death in Iraq. Up quite a bit from previous years. Pretty damn efficient. So as the death toll mounts, so does profitability.
In
2000
, someone said that his prosperity didn't have anything to do with the government. Well he sure fixed that.